It's no coincidence that the words "hospital" and "hospitality" are so similar. The word hospital comes from the Latin word hospitalia, which means an apartment for guests.
Hospitality is rooted in human kindness. Before hospitals became medical centers, travelers and pilgrims were received and cared for in a version of hotels thousands of years ago. When people from many different faiths were encouraged to make pilgrimages to the many holy places of the Middle East travelers from Western Europe made their way into that part of the world.
Many of these pilgrims were poor, and some were sick, seeking healing and miracles in sacred places.  Many hospitals were established, including in remote and dangerous places. The service of early hospitality was perceived as a gift to others who shared the faith, or to those on journeys generally needing food and shelter.
Many Christian hospitals can be traced to around 325 A.D., when the bishops of the church were instructed to go out into every cathedral city in Christendom and start a hospital.
As time went by, medical treatment gradually played a bigger and bigger role in hospitals. From the 16th century onwards, hospitals began to take on its modern meaning as we know it today.
The earliest hospital in Islam is believed to have been a mobile dispensary following the Muslim armies, dating from the time of Prophet Mohammed. By the 12th century, the hospital had become a very advanced institution.
In 650, the "Hôtel-Dieu" was found in Paris and is considered as the oldest worldwide hospital still operating today. It was a multipurpose institution which catered for the sick and poor, offering shelter, food and medical care, again predating the notion of the massive, global hospitality industry we enjoy today.
The Common Thread: Kindness and Service
Over the span of my career leading patient experience and quality initiatives in some of the largest hospitals in the US, I have often shared with teams I mentored a vision for hospitality in hospital settings. This has changed their perception and even their cultures, particularly when the pause to consider the human concerns of those who are admitted to hospitals.
They are ill, they need treatment. They are afraid, their families are worried. They are away from their homes, away from their work, and can feel confused and bombarded by information, people, procedures, and choices.
There are so many ways we can interpret "five-star" experiences in hospitals, and this does not mean spending more money. It means focusing on the things that matter most to patients and their loved ones: above all, sensitivity and kindness.
Good listening is likely the most profound, quiet skill team members in hospitals and hotels and restaurants, cruise ships and spas can practice. When we listen, and connect, we can comfort and avoid problems. We can improve our delivery of care – or our delivery of a better meal, a more comfortable bed, a more beautiful view.
Here are five ways hospitals can interpret best practices in hospitality to not only increase patient satisfaction, but the joy of providing care amongst an aligned and collegial team, and the benefit of creating a more competitive offering that can have lasting economic benefits.
Extend a Very Warm Welcome
This is the first impression for hotel guests and hospital patients. The experience of entering the hospital, being greeted at reception, being made comfortable and being helped with belongings and directions to their destination can mean a world of difference. Patients entering hospitals are under much more stress than hotel guests, and the right person – the right tone of voice – the right listening and assurances start the experience overall and can reduce anxiety and even surprise the patient and their accompanying friends or family. This is priceless.
Select, Engage With and Train the Best Possible Team Members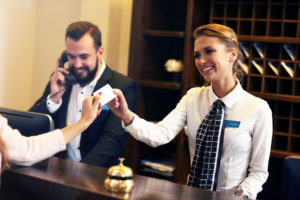 Just as the hospitality industry is now selecting from the best educational programs and competing for the most highly rated and genuinely passionate for service employees, hospitals can do the same.  World-class hotel brands view employee selection as the single most important factor in strengthening and developing the organization's service culture which is quite often their greatest "brand asset." Applicants are carefully selected, and trained immediately, with extensive orientation programs including creative and vibrant presentations on the brand's mission, vision, standards, ethics, service orientation and culture. This is a continual process linked with motivational mentoring and rewards systems for awesome employees who go the extra mile for guests.
Use Technology Quietly and Respectfully in the Background
Hotels, cruise lines, restaurants, spas and other hospitality venues respectfully ensure the specific, personalized needs of their customers are captured in customer records. When we arrive, today, at the Ritz Carlton, we are greeted by name, located on our preferred floor with our preferred view, have hypoallergenic pillows with the softness or firmness we prefer, extra towels, and fruit and water delivered to our rooms. We are delighted in a gentle way by this personalized service. And with technology, this kind of "royal treatment" is not restricted to ultra-expensive, five-star places. Even moderately priced hotel chains and cruise lines, for example, offer loyalty programs that are data driven to bring the best experiences and the most personalized services at affordable prices. Hospitals can expand their data strategies beyond basic EMRs and can do simple but powerful things, including noting a patient's food preferences, allowing for example a nutritionist to appear in the hospital room with a tablet that can enable a friendly conversation, for example "How was your salad yesterday, Ms. Brown?" and "Ginger Ale again today for lunch?"
Anticipate Needs
The ability to intuitively observe, listen, sense and respond is one of the most powerful talents found in high quality hospitality settings. We all remember those individuals who notice, for example, that we may be thirsty on a hot day, and hand us a bottle of cold mineral water. We all remember those servers in hotel restaurants who notice when we are dining alone and strike up a conversation that makes us feel a lot less lonely. We all remember those room attendants who notice we are jet lagged and work their schedule around ours. These often simple, basic gestures add up to great memories and build loyalty. This is no different in a hospital. The nurse assistant who brings a cup of tea to a wife at her husband's bedside can have a tremendously positive impact on her state of being. The physician who stays longer to engage in friendly conversation after completing his or her examination will be remembered for years to come as a real human being who really cared. Having empathy and expressing kindness is a differentiator and simply the right thing to do.
Ask for Feedback
Hospitality professionals never hesitate to ask how guests are feeling. In fact, the more senior the professional, the more often they ask and the more open they are to input, even if and especially if the input is not positive. This feedback is also systematically gathered and shared, in team meetings, in business reviews, and is cycled back into improvement programs which continue to drive excellence – customer loyalty – revenue – and profit. Hospital teams can learn a great deal about how they are doing and how their "guests" are feeling, and given open hearts and minds, and a refusal to become defensive or immune to criticism, can breakthrough to new levels of experience ALL feel better about.
In Summary
Let's all keep in mind how we love to be treated, regardless of where we are – at a hotel, restaurant, shop, theatre, clinic, hospital or cancer center. The golden rule here applies across the full range of "being hospitable" – "Do unto others as you would have them do unto you." Listen – learn – and love. Then watch your culture and business bloom.